All Breed Group Wins & Placements
over 2,000 all breed points
over 400 Vizsla points
4 Sporting Group wins
Group 2nd at the largest Sporting Dog Specialty
33 Group placements
112 Best of Breed wins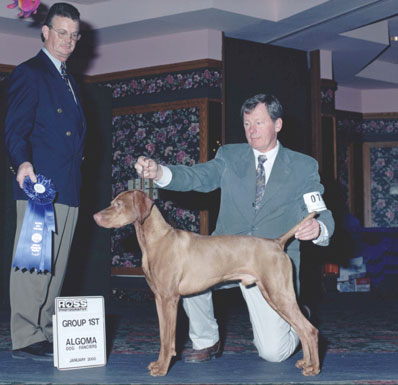 Toldi wins his first Group 1 in January 2000 (only 16 months old) under Judge Martin Doherty.
He went on to win two more Groups under Mr. Doherty in 2001, in March 2001 at Orangeville K.C. and in August 2001 at Trio K.C. and on the same weekend received back to back Group 1 from judges Jacqueline Rusby and Martin Doherty.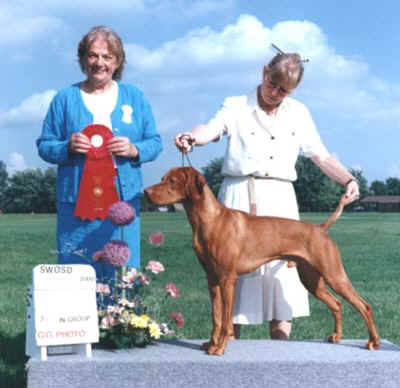 Group 2nd  – LARGEST CANADIAN SPORTING GROUP SPECIALTY
Aside of the Vizsla Specialty wins, we are most proud of Toldi winning Group 2nd at the largest Canadian Sporting Group Specialty in 2000, not yet 2 years old (actually at 19 months old) under judge Patricia Mowbray (who has judged US Nationals and is respected Vizsla judge) in the toughest competition of top Sporting dogs in Canada attending.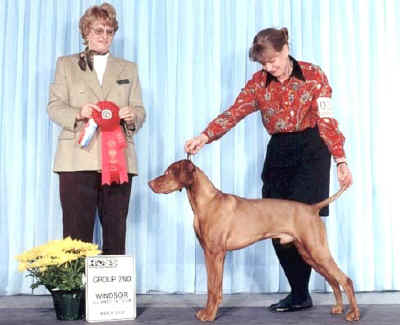 Some Group Placements
Toldi pictured winning one of his Group 2nds-this one under judge Keke Khan in March 2000
Another Group Placement under judge Thora Brown in 2001 at Credit Valley K.C.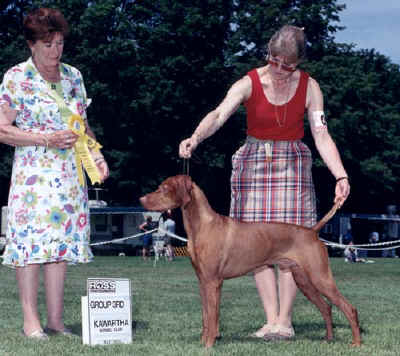 With Mrs. Phyllis Woolfish…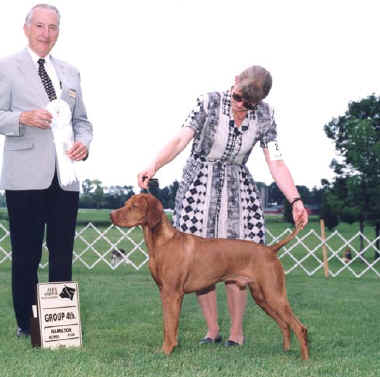 …and Mr. Rodger Hartinger